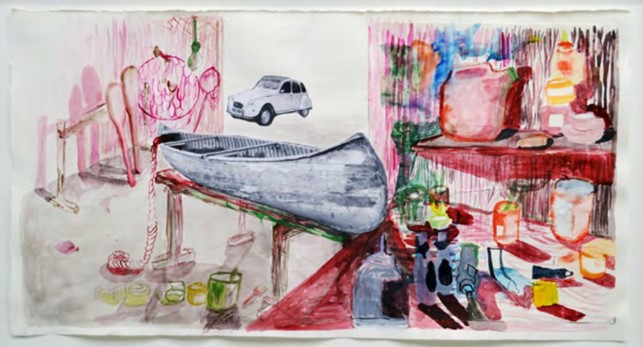 Exhibition Agreement
Mette Vangsgaard: Worshop at the harbour
Exhibition agreement
To be considered for exhibiting at CBS, the artist must have a degree from an accredited art school and have exhibited at recognised censored exhibitions.
Content of the agreement:
Dear XXX,
On behalf of CBS Art Club I hereby confirm our exhibition agreement.
Exhibition details:
Venue:
Period:
Please note that you will need a parking permit at CBS. You can get the permit at the information desk in the lobby.
After establishing the exhibition please forward the following documents:
A numbered list of works for display at the exhibition venue
A numbered list of works carrying prices
A picture for the CBS Art Club website
A description of yourself, including a CV, for the CBS Art Club website
Please number the exhibited items before hanging to ensure easy identification based on the list of works submitted. Furthermore, it is your responsibility to make sure that all items to be exhibited at Solbjerg Plads are furnished with eye screws and strings. Pictures of the exhibition venues are available at the CBS Art Club website.
CBS Art Club commits itself to a minimum purchase of DKK 5000. After the closing of the exhibition please forward an invoice to your Art Club contact, clearly stating what has been purchased and at what price. Payment will be made immediately after the receipt of the invoice.
The CBS Art Club website includes an exhibition list of the purchased works of art. In addition, the images can be used as background illustrations or in News. If you are not interested in your work being displayed on the website, please let us know.
Please note that Copenhagen Business School, and with it also CBS Art Club, as a state institution does not provide insurance for the exhibited items in the exhibition period.
Under no circumstances is it permitted, without prior and explicit approval from the board of the CBS Art Club, to make physical adjustments to the exhibition venue, including driving nails into walls. In cases of non-compliance, restoration costs will be deducted from the committed purchase sum (see above).
Please let us know if you accept the above.
Kind regards
CBS Art Club
Solbjerg Plads 3
DK – 2000 Frederiksberg
https://kunstforening.cbs.dk/